Each year here at The Trek, we survey long-distance hikers on the Appalachian Trail (AT) on the shelter systems they use. In this post we'll cover the trends from the AT class of 2021. We'll cover types of shelters used, satisfaction, size along with the top brands and models.
310 hikers participated in the survey, all of whom had walked a section or thru-hike of the AT in 2021. Almost three-quarters were thru-hikers, and the rest were section hikers. For more details on the hiker demographics, check out our post with general information from the survey.
READ NEXT – The Top Footwear on the Appalachian Trail: 2021 Thru-Hiker Survey



This year saw a more diversified use of sleeping systems across the hiker population. In 2019, 73% of hikers used a traditional tent. This number has dropped to 62% of all survey respondents. All other shelter types have seen an increase, with trekking pole tents seeing the highest increase (14% to 19%).
Hammocks and tarps also saw a large rise in respondents with tarps doubling from 1.4% of hikers to 3% of all respondents. Interestingly, we also saw six respondents rely on no carried shelter system, three of whom completed their full thru-hike.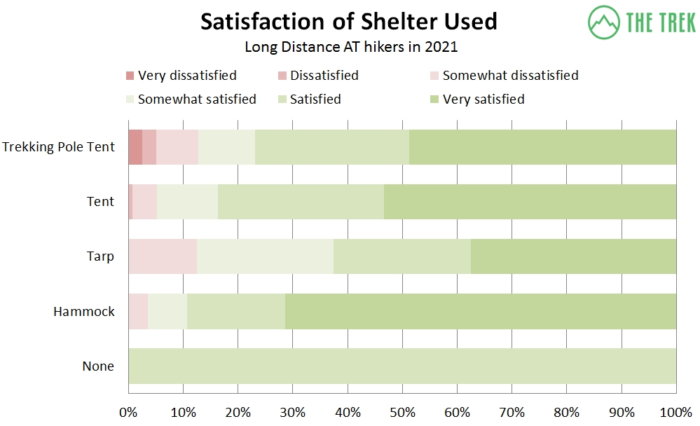 We asked hikers how satisfied they were with the shelter they used on the AT. Ninety-three percent of those who hiked were satisfied with the shelter used, with 50% of those with tents being very satisfied. Trekking pole tents saw the most dissatisfaction with 12% being unhappy with the setup.
The majority of the complaints with tents seemed to be with how they dealt with rain. As a lot of respondents spent a lot of time in Appalachian Trail shelters, it seemed that the balance between weight and structural integrity was a difficult thing to get right.
Here are some quotes from those who were dissatisfied with their setup:


Over half of those who hiked solo used a two-person tent. Around 42% of those hiking with a friend or relative chose not to share a tent and use a one-person tent. Forty-five percent of couples used a tent made for three or more people. This highlights the desire for a slightly bigger tent for the luxury of being able to store personal items inside rather than storing them in a vestibule.


We asked hikers who used a hammock or tarp about the size they used. Sixty-eight percent used a tarp between 8x10ft and 10x12ft with those using hammocks skewing this to the higher size. None of the hikers who used a 6x8ft tarp used a hammock, but instead slept on the ground.
For the second time in a row, we didn't collect data from those in a hammock on what they used. This was due to an error in the 2019 survey that I didn't spot as we updated it for 2021. Therefore, we don't have any data on models and hammock brands, which is a shame as they have grown in popularity since the survey first launched. This will be collected for 2022 but I can only apologize for this mistake. We promise it wasn't intentional and have nothing against those who chose an elevated sleeping system.
Finally, we asked hikers for their favorite brands and models. In 2019 Big Agnes was a clear winner with 114 hikers choosing this brand. This year, while still the favorite brand, this number had dropped to 55. Two brands that have seen big upswings this year are Gossamer Gear (26) and Durston Gear (15). Here are their rankings by popularity.


Around 80% of thru-hikers on the AT used a tent, 13% used a hammock, and four percent used a tarp. The majority of hikers were satisfied with the shelter system used, with the highest dissatisfaction seen by those using a trekking pole tent.
About 50% of those who use a tent go a size up. The most popular brand of tent was Big Agnes, followed by Zpacks and NEMO. Gossamer Gear's "The One" was the most popular one-person tent, the Zpacks Duplex the most popular two-person, and the Copper Spur UL3 from Big Agnes was the most popular three-person tent.
Many thanks to the hikers who participated in the survey! Congratulations to you all! Check out our previous posts with general hiker information and footwear used. Upcoming posts from this year's survey will cover backpacks, sleeping bags and pads; stoves, food, and water; and favorite places on trail. To stay updated on the subsequent hiker survey posts, subscribe to The Trek newsletter.
Data were collected from participants recruited via our social media platforms, Backpacker Radio, and TheTrek.co. Participants submitted surveys anonymously between October and November of 2021. There was some data cleanup done during the analysis of the data where obvious spelling mistakes were made or brands/models were obviously the same. We also changed any start dates that referenced 2022 to 2021 and couldn't find any obvious duplicates in the data. That said, please keep in mind you can't always believe the answers to what you ask strangers on the internet.
Featured image: Graphic design by Chris Helm (@chris.helm).
This website contains affiliate links, which means The Trek may receive a percentage of any product or service you purchase using the links in the articles or advertisements. The buyer pays the same price as they would otherwise, and your purchase helps to support The Trek's ongoing goal to serve you quality backpacking advice and information. Thanks for your support!
To learn more, please visit the About This Site page.
Hello! We're Joal and Jenny, a British couple who love spending time outdoors any which way we can. We first learnt that we liked hiking in Nepal where we made up our own route through the Annapurna mountain range. From here we've done a fair few in the United Kingdom steadily becoming more self sufficient. In 2018 all this culminated in us hiking Mexico to Canada on the Pacific Crest Trail. Now we're hooked, always keeping an eye out for our next adventure. When we are not on trail we spend our time in London, UK enjoying board games and craft beer.
I didn't need any of that crap I did it natural all the way!
Bought a small Tarp tent, nice company, few weeks later, went w/ a little bigger Tarp tent to sit up in… didn't like that either. Bought an Agnus 2 man. Liked it, but then went w/ a zpack, nice and light, but too many steaks to dig in a hard ground, and the bath tub is terrible, so, went back to the Agnus. They now have a 2 man Agnus like mine, much lighter at $1000.00. Wish there was camping shows like bike and RV shows, so you can try out things. So, yep, 4 new tents on the AT. Have just 400 miles to go this June. Walking for make a wish… raised 6000.00 so far. tim andrew, ossipee, nh
Was there a reasoning behind using increments for 6'x8′ and 8'x10′ tarps? Personally, I haven't seen a 6'x8′ tarp in the wild or on the market (aside from a Walmart . The most common tarp (not including hammocks) I've come across is a 7'x9′, which could fit into either of the two options depending on who's taking the survey.
Could we get more information on why people were unsatisfied with they're Tent? Especially the trekking pole type. Funny how the most popular 2 person was the Zpacks, but it's a trekking pole tent
Thanks, as always awesome information!!
John
More information would be interesting. They did provide some comments, where it looks like certain models of tents were leaking. So likely that was the reason rather than the type of tent (trekking pole or not).
Hey Dan.
Glad to see you in the comments!
All respondents who used Durston gear said they were either satisfied (3) or very satisfied (12). Below are all comments captured from Durston Gear users:
– If I had to do it again, I would gladly switch to a tarp setup with a waist up bivy in a heartbeat
– Tent worked exceptionally well. Very roomy
– The Xmid is amaaaaazing
– This is the best hybrid between a trekking pole tent and a 2 wall. I loved setting it up without the inner. SO MUCH SPACE.
Hi John,
I combined standard tents and trekking pole tents when it came to listing the most popular brands/models as felt this was the fairest representation of what hikers used.
I've just had a look at all the comments from those who were unsatisfied and all were captured in the satisfaction part in the article. For next year we might ask the question directly about satisfaction so we get more robust data as currently this is captured in 'anything else about your shelter system you'd like to tell us' so not everyone answers this.